After the chalk dust settles…a sale, a sale!
Oh, June, so lovely, so busy with your many, many chalk art signs.  How shall you be followed up?  Why, with a sale of course.
I am happy to offer 15% off all of our custom freestanding chalk art boards through the months of July and August. We offer single and double sided sidewalk chalkboards and prices vary depending on content.  Do you need a full menu board or a specials boards with free space for you to fill in as your menu changes?  We can create the perfect, stunning chalk art board to attract business.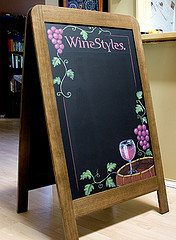 Please feel free to contact us with your details and we can translate them into
artful
easily readable
sealed against the elements
fir framed 
chalk art signage
We appreciate your interest and are happy to answer any questions you might have about our custom chalk art signs!
Many thanks for tuning in,
Melanie

Share on Facebook