Howdy friends.
Books, Barbers and Moose (meese, mooses)….It's been an interesting time out here…we had a four day snow storm that knocked out our power for three days.  My daughter took everything she learned watching the Winter Olympics and put it to good use on our big, hilly driveway.  We ate well and stayed warm with our wood stove and had the chance to haul out the cross country skis for a jaunt about the neighbourhood.  Today, sunny, warm, tee shirt weather.  Welcome to Fantasy Island!
As well, my most favourite radio program ever just wrapped up: Canada Reads.  Take a nation-wide, government funded radio station and host a yearly event whereby intelligent individuals champion ten books and debate them publicly.  Books are voted out one by one and there can be only one winner.  It is Canadian Reality TV/Radio.  This year, the champions had to argue that their book was the one book that could change Canada.  I warmly invite you to visit the site and take a read and a listen to the impassioned debates.  It will blow your  mind. Think about it: an entire country engaged in cultural awareness, forward momentum, historical influences and literature. Thank you Canada.
Meanwhile, back at the ranch, we are busy in the studio!  It's been a repeat performance month with previous customers coming back for more and we are happy to oblige.  The fantastic folks at Rooster's Barbershop asked us to make two more Service Menu boards for them.  We did so happily. You might remember these from our last post.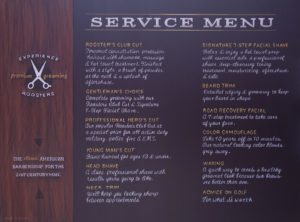 As well,  a few years back we created 8 signature boards for some fine folks up in Denali National Park in Alaska, USA.  This was the original: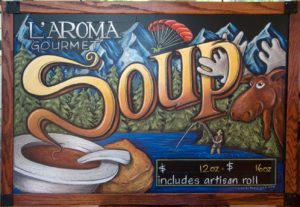 The customers loved the moose (who doesn't love a moose?). They were ready for menu boards and asked us to continue the theme.  Here is the latest series of 6 moose boards we just completed for them.  Six moose.  Meese.  Mooses.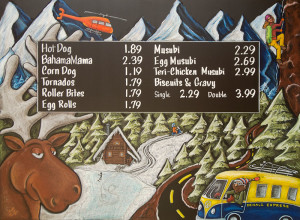 Well, hopefully now you will head off to Canada Reads for a dose of good, old fashioned literary fun.  We surely appreciate your cards and letters and as always, we appreciate our fine customers who allow us the privilege of creating fun, unique chalkboards for them.  You too can own your very own Chalk It Up Signs original.  Just drop us a line and let us know what we can do for you.
All the best,
Mel and the CIUS book club

Share on Facebook