When you buy a custom chalkboard menu from Chalk It Up Signs you are purchasing an original piece of hand drawn chalk art. If framed, you are also acquiring hand made wood working. Because our signs are completely custom you get exactly the chalkboard you want. This sets us apart from mass produced cheaply made factory chalkboards.
When you buy a custom Chalkboard menu you are buying art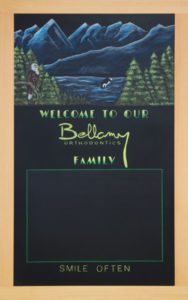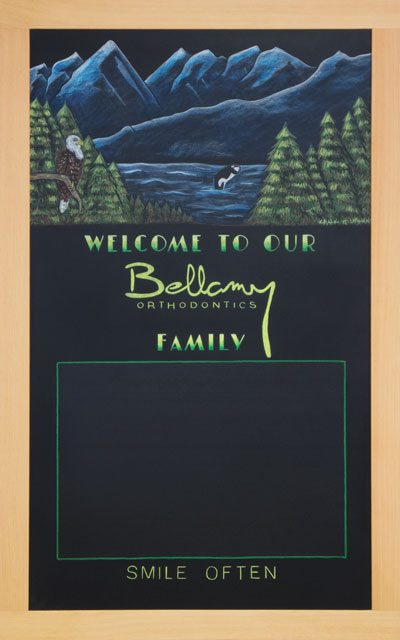 When we created this mountain scene, with an orca whale, the ocean and an eagle in the forrest for Bellamy Orthodontics it was all by special request. This chalkboard is completely custom. The size was also based on the amount of wall space they had in a very specific location. The colors,  fonts, logo all match their decor and branding. This chalkboard specials sign greets customers as they enter the office in Nanaimo, BC.
To buy a custom chalkboard menu it is as easy as sending us an email request from out contact page. Include the size(s) and the content option. Go to our pricing page to find out more.
We ship each week to all cities and states across the USA and Canada from Vancouver island to Newfoundland.
Custom chalkboard menus, special chalkboards, A-Frames, chalk art signs and more are sent to happy customers each week from our Vancouver Island studio. We have developed excellent methods to guarantee your chalkboards safe arrival wether it is in Toronto Ontario or Tallahassee Florida.
Get your chalkboards needs filled and buy a chalkboard menu sign today!

Share on Facebook