Howdy friends.  It's a great day here on Fantasy Island…typical rainy, grey, foggy day.  Great for colouring fun chalkboards! The latest out of the studio are these Carpet Point of Sale chalkboards for a great repeat client, Rose and her company Earth Rugs.  Earth Rugs is located in Little Rock, Arkansas. They have distribution worldwide.  We have made this sign for Rose before for trade shows.  However, the company wants to use  Chalk It Up for their carpet point of sale chalkboards at their dealer locations.  How exciting for us!
Chalk It Up Signs can take a unique, original hand drawn chalkboard and print multiple copies for you.  Dave, CIUS's framer extraordinaire, custom frames the printed chalkboards. In this instance, Earth Rugs then sent them to their distributors.
Point of Sale  or POS signage is extremely powerful. These carpet point of sale chalkboards are a great example.  A chalkboard with your logo reproduction, tagline or messaging at the site of sale sticks with consumers.  They associate the product with the message in the moment.
Would you like to increase your POS presence?  Contact us today for information about printed copies of our hand drawn chalkboards.
As always, thank you for your attention and let us know how we can help you boost your sales with our Chalk It Up Signs Chalkboards.
Mel and the gang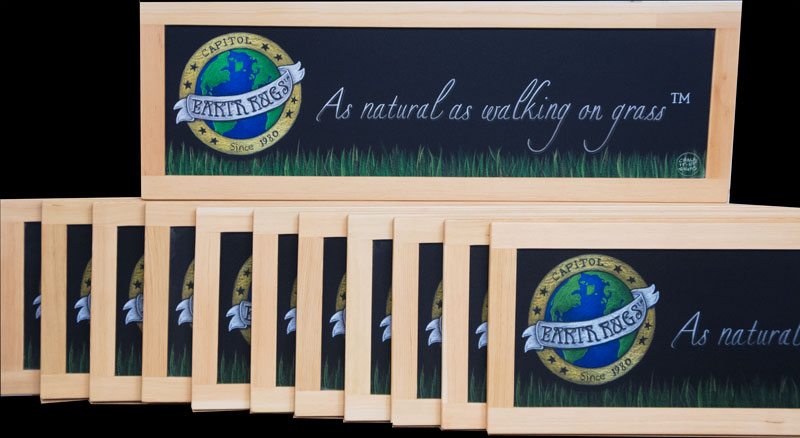 Share on Facebook