A collection of Chalk Artist Video from Chalk It Up Signs.
On the road creating chalk art murals in Dallas Texas.
Studio tour of finished menu signs.
Client sign in action.
12 sec. stop frame video showing framing of restaurant menu signs.
Chalk artist video gets your message out to your customers
This a peek inside the Chalk It Up Signs Studio. We are often so busy we don't take the time to appreciate all the beautiful chalkboard art getting created.  We ship every week across North America.
A Chalk It Up Sign being used in a video to promote BC Beef.
BC Beef & ARC Restaurant from SPIRO Creative on Vimeo.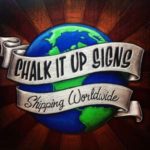 Contact Chalk It Up Signs today for a price estimate

Share on Facebook