Chalk Chick Chalks it up to Rock!
For us here at Chalk It Up…busy, busy, busy!  We enjoyed some family downtime over the holidays. One night we sat down to watch the classic rock band, Heart, perform on the television and I had to explain to my daughter that way back in the olden days, there just weren't women rocking out like there are today.  The Wilson sisters were so inspirational then and still are since my daughter has been walking around the house singing "Annie, Steamboat Annie".  Here's a little video musical moment for those of you who need to be reminded how to let your inner rock star out.  We have also been rocking out in the studio and producing some super fun chalkboard signs.  I  might have been listening to some classic Heart for inspiration lately.  I'm just saying…those women are amazing!
Chalk It Up Signs goes to school!  Or rather, to an alumni magazine for the Sauder School of Business at UBC in Vancouver, BC.   Click on the link to see which image made the cover!  Chalk It Up Signs can chalk anything up as a spot illustration for publication and print.  We hand draw the images.  The images then go to a fancy photo shoot where they are photographed in super high resolution by a professional photographer and then we send the file along to the customer. Chalk art is a very hip and vibrant way to get a message across. And we can help you do it in print! Many thanks to Miss Dianna for her lovely apples 🙂
Our dear friends down the road at Somerset Farms now have a new farm sign! They are a family owned and operated farm and super amazing people. They work so hard to produce food for the region and support so many community initiatives.  I love them.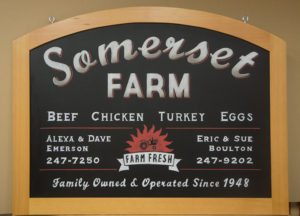 Potter's Fire is a great pottery studio located in Virginia. Mike was a gem to work with and they have a great idea of how to use the two sided a-frame we created for them. Keep an eye out, they will post photos!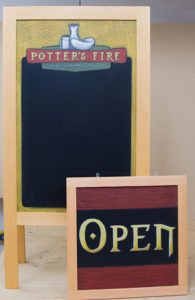 And what is the best way to sell hand crafted, unique light fixtures, tamales, salsa and margaritas in Texas?  Well friends, with a chalkboard sign, that's how!  Varaluz Lights in Dallas, Texas asked us to come up with a creative "twist" on getting folks all lit up in every way.  A very fun and big board! 4 feet by 5 feet of fun!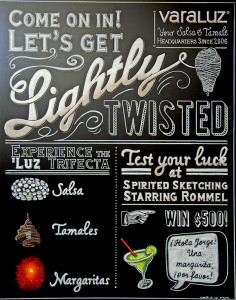 We have lots of projects on the go right now, stay tuned for more great images for great customers.  Do you have a business, venue or event that needs something that really stands out and is unique and fun?  Drop us a line, take a look at our portfolio. We can help you with our fantastically fun chalkboard signs!
I hope you are still rocking out to Heart. And to let you know they still got it…
Catch you on the next wave,
Mel et. al.

Share on Facebook