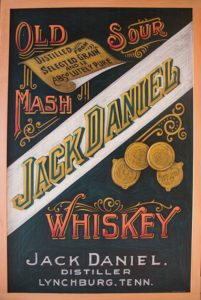 The Artwork Professionally designed and hand illustrated for the highest quality of chalkboard you can find on the market. Attention to detail keeps us at the front of the industry.
It Does Not Smudge! The artwork is sealed to last a long time! We have CIUS signs that are over 10 years in the running and still look great. Although the artwork is made to be permanent, spaces can be left to give you the flexibility of a standard chalkboard.
The Black Board Custom-cut from lightweight, durable sign substrate for clean, professional presentation. Completely re-writable. Easy to clean using ammonia based cleaner or vinegar/water.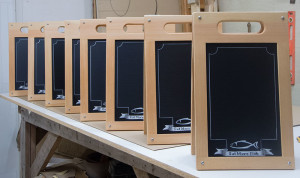 The Standard Framing 
 Our chalkboards look great on their own, framing makes them stand out.  3/4″x 2.25″ west coast fir. Mortise and tenon joining for a strong, clean frame. Hand rubbed polyurethane for protection. Stains, Spar Varnish (for additional protection against the elements), and paints are additional in both charge and lead times. If you require a different wood or type of framing let us know and we will look into it.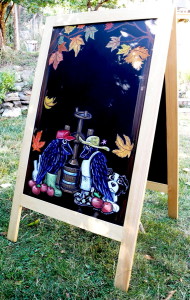 Free Standing A-Frame (single & double sided) Bring those potential customers in! The chalkboard surface is 24″ x 36″ and the whole unit is 30 " x 48″ Framed in Douglas Fir.  These chalkboards can be used for Daily Specials with areas left unsealed for staff to write in daily changes or they can be fully loaded with graphics and text.  Great for weddings and special events as well.

Table Top Signs 
Perfect for POP (point of purchase) to bring your message right to the customer. Digital reproductions possible for large quantities. We can create any shape, size and base style you require. This example is 10" by 5".  Framing options are the same as          a-frames and standard chalkboards

Share on Facebook