Happy Spring everyone!  We've got flowers poking their heads up out of the previously frozen ground and the air smells great!  Speaking of warmer weather, how about this chalkboard art signs for food truck we recently made for a west coast catering company, Scotty's Northwest. Seeing as Scotty highlights local, west coast fresh seafood, he asked us to draw some for him.  We were happy to oblige.
Chalk It Up Signs specializes in hand drawing chalkboard art signs like you see in this chalkboard art food truck sign.  We included Scotty's logo as well as the seafood he uses for his catering.  The vibrant colours and fantastic art make our signs memorable to your customers!
Call us today for an estimate on how we can hand craft a unique and one-of-a-kind chalkboard art signs with your logo and the images you need to represent to your clientele.  Our chalkboard art signs can be used as menus, specials boards, a-frames, and more.
Get outside and enjoy this great weather…we will try to do the same!
Many thanks as always,
Melanie and the CIUS Gang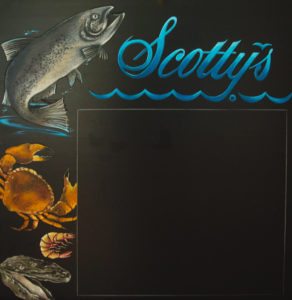 Share on Facebook