This college writing room chalkboard was created for Suny Maritime College. Suny Maritime College is located on the Throggs Neck peninsula where the East River meets Long Island Sound. The easel chalkboard, with the type writer and books, will stand outside in the hall letting  students now where the Writing Center is.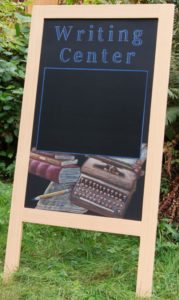 A custom specials chalkboard is ideal when you want to make regular message changes. This college writing room chalkboard is framed with strong and durable west coast fir. The writing space is 36″ x 24″.
Chalkboards are emotional signage.  They make you feel and act and that is truly powerful even though chalk is a simple medium.  Are looking into new ways to change decor? Can you use different directional signage in your establishment? Consider using Chalk It Up Signs chalkboards.  We understand clear messaging with captivating delivery.
Contact us today to order your very own CIUS chalkboards.  Directional or otherwise, we won't leave you high and dry out on the savanna.
As always, we are yours,
Chalk It Up Signs

Share on Facebook