Greetings and salutations friends. Leaves are falling, the sun is sinking lower in the sky and the chalkboards are still flying out of the studio! The latest is a table top custom wedding chalkboard from Chalk It Up Signs.  This is a great way to add classy, custom, stylish chalkboard signage to your wedding.  Chalkboard signage at a wedding is fun yet sophisticated.  At CIUS, we can create any type of custom wedding chalkboard to fit the theme of your special event.  Even if your wedding is a formal affair, a splash of artistic fun can help create a fun, playful mood.
Take for example this custom wedding chalkboard created for a hot chocolate bar.  We incorporated the cranberry colour which is part of the bride's colour scheme for her wedding.  The fun font choices are playful and creative and the snowflakes reflect the winter themed wedding event.  A great custom wedding chalkboard adds to the event.
Let our talented designers create a memorable photo booth, table placement signage, seating charts, parking directions, ice cream bar signage, hot chocolate bar, grown up drinks bar :), and so much more. We can create table top custom wedding chalkboards as well as wall hanging and stand alone chalkboards.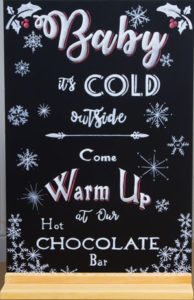 You want a memorable event and a custom wedding chalkboard (or several) is a great way to set a mood and create memories.
Contact Dave today for more information on a custom wedding chalkboard for your wedding.
Remember, hand drawn, custom made chalkboard signs take time to create so don't leave it until the last minute.  However, if you have left it till the last minute, we can do rush orders.  We service all of Canada and the United States and even beyond!

Share on Facebook