Here's a little known fact about our chalkboard signs – our signs have two sides so every chalkboard you order from us is a double sided chalkboard sign.  Our high quality sign substrate allows you to hang the sign proudly for visibility and usability from the back as well as from the front. You may even choose to write a message on the back of your double sided chalkboard sign. We can absolutely hand draw our fun chalk art on both sides of chalkboards (KMP in New York, NY or Somerset Farm in BC) or we can leave it blank for you.
When we frame our signs both sides of the frame can be treated equally to look great! Just make sure you let us know you would like to use both sides of your Chalk It Up Signs Double Sided Chalkboard Sign.
Many thanks to Capitol Earth Rugs for their repeat business and for letting us create great trade show chalkboards for them.  Here is an example of a chalkboard that was designed to be used for one side, but the back side looks clean, professional and is also usable should the client wish to write additional messaging on it.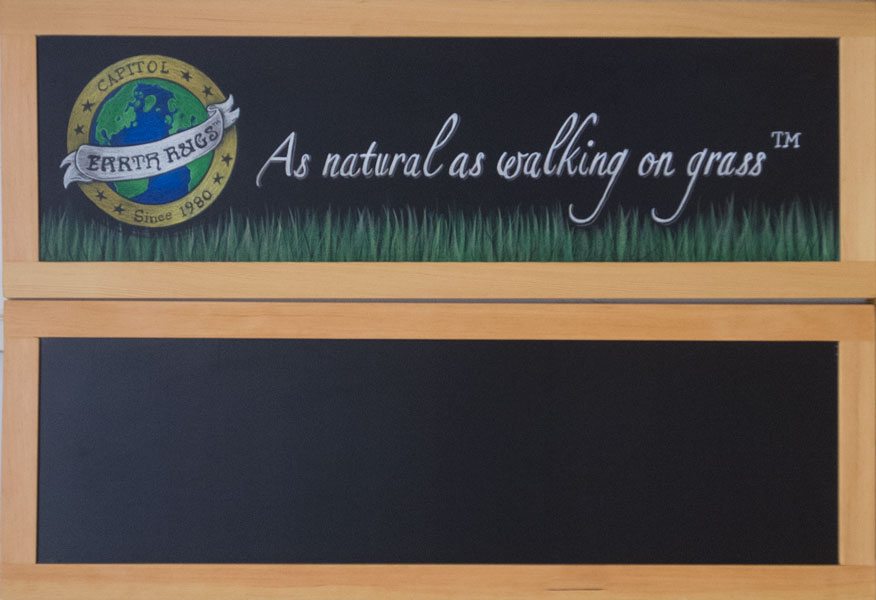 Contact us today for more information on your very own double sided chalkboard sign! You can hang our signs anywhere and not feel squeamish about the backside showing!
Until then,
Mel and the CIUS gan

Share on Facebook