When you buy a Food Truck Chalkboard Menu from Chalk It Up Signs you are purchasing an original piece of hand drawn chalk art. If framed, you are also acquiring hand made wood working. Because our signs are completely custom you get exactly the chalkboard you want. This sets us apart from mass produced cheaply made factory chalkboards.
This sign was made for Ardmore Carry Out.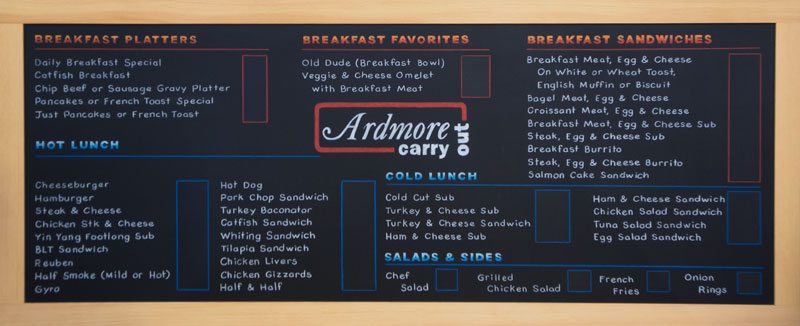 Food Truck Chalkboard Menu
Do you have a food truck or catering business? Do you need a large quantity of chalkboards for an event? Are you planning a trade show, conference, convention, corporate event and you are looking for the just right thing that you don't have yet?
Are located in North America? We can ship to you quickly. We have customers in Alberta to Alabama and Halifax to New Hampshire. Contact us today for information on the various options we have available for great looking chalkboard signs from CIUS.

Share on Facebook