Four More Sleeps till Food Expo 2013!
Oh boy, oh boy, oh boy!
Friends, we are so excited about the Food Expo Restaurant Trade Show taking place this weekend, January 27-28th in Vancouver, BC.
Show boards are almost done, chalk dust is flying, frames are coming together in all the right places.  We really can't wait.  It's such a great opportunity for folks to see our chalk art signs. We hope you can stop by booth #819, shake our hands, and take a gander.  We would love to talk to you about how our signs can brighten, enliven, warm up,  don't forget FUNK-I-FY, and just plain snazz up your establishment or event.
There will be thousands of other exhibitors peddling their food relevant wares.  And there will be food…mmm.  It might be tough to keep Dave in our booth. He likes to eat.
Here's a little "taste" of some of the artwork that's ready to go…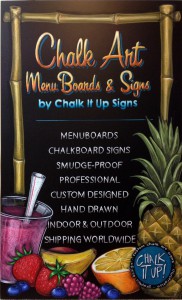 If we don't see you in Vancouver, don't fret…we will be back in the studio next Wednesday.  Contact us for an estimate or ask us about print options for quantity orders!
Many thanks,
Melanie

Share on Facebook