Framing your chalkboard makes it look even better. We recommend that all our chalkboards be framed. It adds weight and definition that draws the eye to it's contents. If you can, frame every time. Imagine art in a gallery without a frame.
Chalkboard Sign Framing 
All our frames are hand made for each chalkboard. Our in-house framer uses 2.25″x 3/4″ vertical grain west coast fir in a mortise and tenon joining for a strong, clean, commercial quality frame. On larger chalkboards where more rigidity is required we add a 1/4″ backing board. Fir will slowly age in color to a reddish brown tan.( the fir is collected from local forests, kiln dried and milled locally on Vancouver , Island)

Hand rubbed polyurethane is applied to the framing for protection. This finish will age and produce a beautiful, orange brown look with time. Stains, Spar Varnish (for additional protection against the elements) and paints are additional in charge/lead times. If you need a different wood (barn board, oak, pine etc.) or type/style of framing just let us know and we will look into it.
All our framing is custom and can be any width, style or color.
Chalkboard Menu in standard frame with West Coast Fir (4'x4′ sign)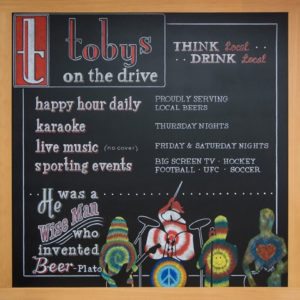 Logo Chalkboard with Barn board in standard width (2'x2′ sign)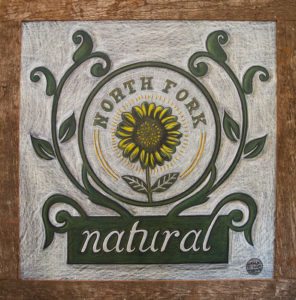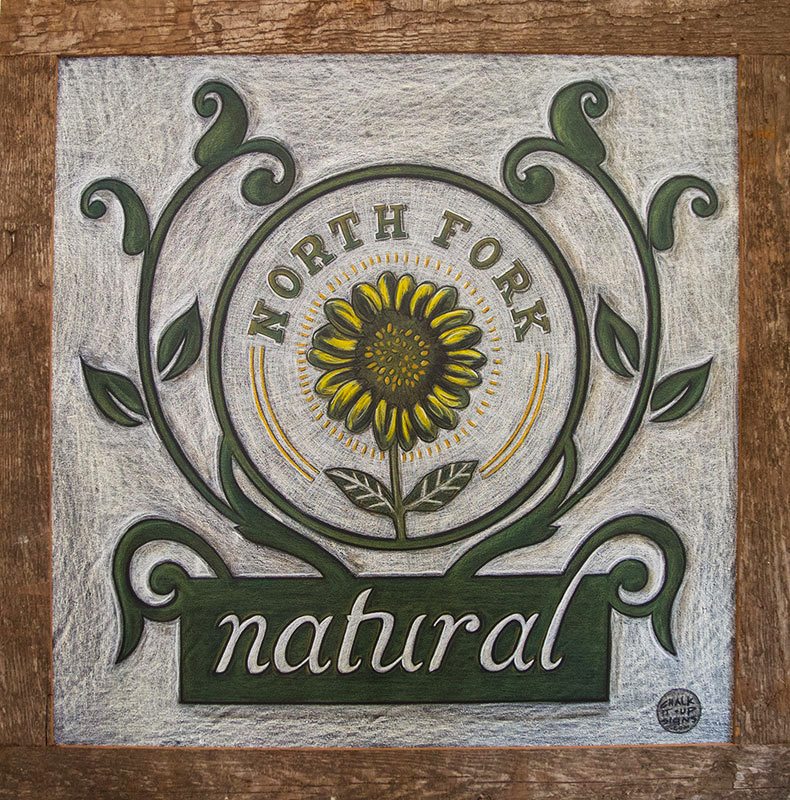 Double sided 3″  curverd frame with 4 coats marine poly for all-weather protection (4'x3′)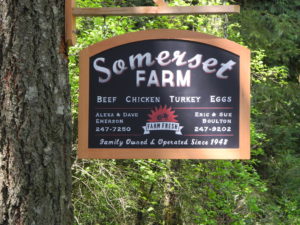 Free Standing /A-Frame/Sidewalk (single & double sided) – Bring those potential customers in! Our standard size is 46″ tall and 24″ wide with a 32″ by 20″ writing area. Framed in Douglas Fir with strong galvanized gate hinges, these chalkboards can be used for Daily Specials with usable space  for daily changes or they can be fully loaded with our sealed chalk art graphics and text. Great for weddings and special events too.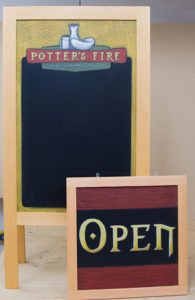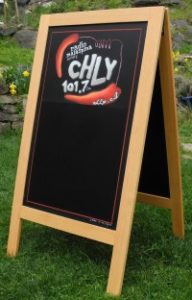 Walnut stain on Easel or singled-sided A-Frame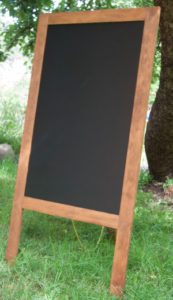 Table Top Signs 
 –  Perfect for POP (point of purchase). Digital reproductions are possible for large quantities. We can create any shape, size and base style you require. This example is 10" by 5".  Framing options are the same as a-frames and standard chalkboards.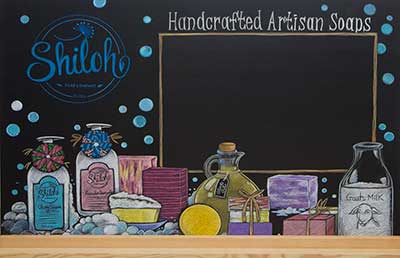 Tabletop base framing with black stain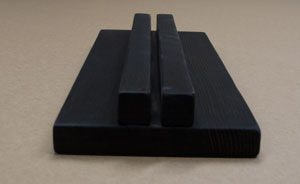 Small tabletop Sign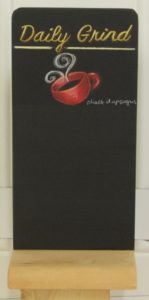 These table top signs were created in the "Steam Punk" style and are mini A-frames.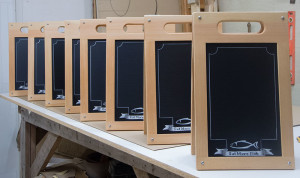 Stains and paint are available  for framing starting at $6/foot.

Small custom 7″ x 9″ framed chalkboards for give-a-way at convention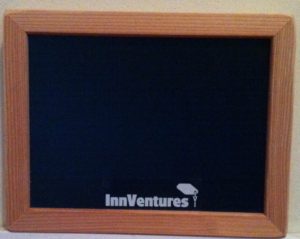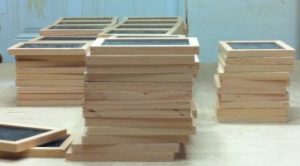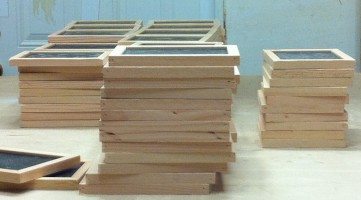 Share on Facebook