Frequently Asked Questions About Our Chalkboards
How much do chalkboard signs cost? We charge by the size and  content. Every chalkboard is custom made and pricing is quoted individually. Go here to our contact page and let us know the size and content. Framing is extra.
How long does it take to get a custom chalkboard made?  It takes 4-6 weeks after the design/layout is approved before we can ship. Rush service is often available for a quicker turnaround.
Is there Tax? For all US and international customers our chalkboards are tax free! For Canadian customers there is GST and GST/PST in BC.
How do you make a menu chalkboard? Go to the Chalkboard Process page to see how it all works.
You are in Canada, can you ship to the US? Almost every chalkboard we make is shipped to the USA. There are no hidden fees, duties or extra charges.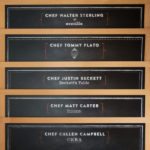 I can't wait a month, can I get my chalkboard quicker?  We are often able to offer a rush service. What ever your deadline is if we say yes we will meet it. Days or weeks, overnight shipping are all possible. These five chalkboards we're made in one week and shipped overnight for a celebrity dinner in Scottsdale, Arizona as part of the Final Four basketball college championship.
Are Both Sides of the Chalkboard Sign Useable? Yes! When we draw your art/text and frame the best side is always used for the front. The back however still looks great and is a a blank sign if you flip the chalkboard over. If you to use both sides, let us know and we will make sure the framing looks just as good on front and back.
If you have any Frequently Asked Questions let us know by contacting Chalk It Up Signs.

Share on Facebook