Purchase, order, buy or shop for a custom hand drawn full artwork chalkboard.
Shop here for a custom chalk art sign for your event, establishment or home.  Our full artwork chalkboards are extremely versatile. From elegant and classy to fun and fanciful, our highly skilled illustrators can create anything in chalk art.  We can provide our images in high resolution for print applications as well.  Every Chalk It Up chalkboard is available framed as wall mounted or free standing/a-frame/sidewalk signs.  Check out our Full Artwork and Promotional Portfolio here.
The image below hangs in the bar at Guy's American Kitchen and Bar and is a 6′ x 4′ chalk art sign of a tattoo on Guy Fieri's left arm.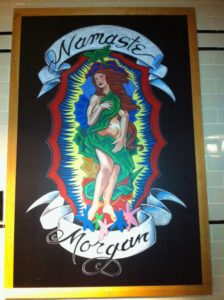 Our high quality Full Artwork Chalkboards  stand out from the competition because we hand draw our chalkboards rather than paint or use markers.
The result is dramatically textured and lush and unique to Chalk It Up Signs. Every chalkboard is custom made to your specification and can be installed on walls, as table top displays or as A-frame, sidewalk, freestanding chalkboard signs or menus. Custom, commercial quality framing is available for any sign. Our chalkboards are sealed to last against the elements inside or outdoors. Go ahead, touch it – it won't smudge!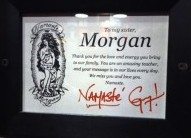 Guy likes it.

Share on Facebook