Happy Holidays From Chalk It Up Signs!
Well, friends, it's that time of the year.  We wish you all peace and love and art filled holidays.  We are so grateful to our clients from this year and years past.  We are also grateful to all the folks who follow our chalk sign business on facebook and twitter.
You have made our year spectacular and and we look forward to 2013 and all that it holds.
Our studio will be closed December 24-26 and January 1- 10.
We will see you all in the New Year and until then, click on the green link for a little bit of artful interpretation of the holidays for your viewing pleasure!
Many thanks to you all,
Melanie and the Chalk It Up Signs elves.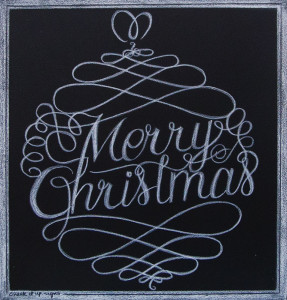 Share on Facebook