Hi everyone and Happy Thanksgiving from Chalk It Up Signs
If you are American and reading this, you probably did not even realize that Canadians celebrate T-Day in October.  They do, and we did today.  My husband, Dave, cooked the entire meal for our family and friends.  It was spectacular.  I am grateful for my loving family and for my partner who will cook for me.
It was also the annual Studio Tour on our little island.  I did not have enough time to take in all the amazing local art, but did enjoy some amazing experiences.  Ultimately, it was conversation with creative people about their art that really put the tour experience over the top.  This island is abundant with artists.  In fact, our island is also named "Isle of the Arts".  It is very humbling to be surrounded by so many people living their authentic, creative lives.
It was a great week for Chalk It Up.   We did this cute chalk art sandwich board for a local orchard.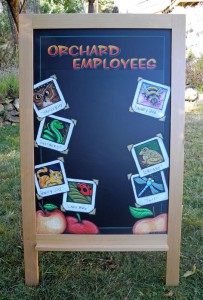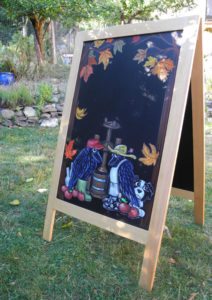 We have a great line up of jobs ahead of us and an amazing collection of chalk art boards already out there this year.  I am so grateful to our clients and friends who keep us powered up, focused and inspired.
Muchos gracias everyone.

Share on Facebook