One of the first questions we get asked is  – how long does it take to make a custom chalkboard?
The quick answer is one month after we have an approved chalkboard layout and design. This can be seen on the chalkboard process page.
Once the design/layout is created we can finish a chalkboard in a month or less
This Java Junction chalkboard is a typical example. The size is 3 feet x 5 feet and it combines a menu with specials boxes and great images.
Rush Service
If you need a custom chalkboard(s) with text and images in less than a month we offer a rush service. This means we work as fast as we can, work evenings and weekends, and get the job done  and shipped to you in the time agreed on. This can be as quick as week! Rush service costs 40% more.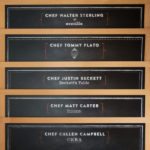 These 5 specials chalkboard were designed, printed, framed and shipped to Arizona in 2 weeks. If you need your chalkboards quick all you need to do is ask. We'll make every effort to meet your needs and have your menu chalkboards in hand on or before your required date. Wether you are located in Toronto, New York, San Francisco or Miami we can deliver on time.
Q – How long does it take to make a custom chalkboard?
A- In one month or less after design approval.
Contact Chalk It Up Signs today to pace your order.

Share on Facebook