If I Was a Rock n Roller, Who Would I Be?
Howdy friends,
We are super busy in the studio this week, but it feels like a beautifully well paced dance.  Fall is like that I think.  Summer's urgency is ending and we all just get down to business.
Since our return from a hiatus from all things regular and normal (referred to in most circles as a vacation…check out a short blog about ours here), I have not turned the stereo in the studio on once.  Not once.  And this is odd for me because I actually really love to rock it out.  Rock star, ear-splitting, arena rock loud. And I sing along to EVERYTHING. It doesn't matter what I am listening to, I just like it loud. But my mind continues to crave that beautiful silence that we experienced while on the boat. Everything else just feels like distraction. We are working on many fun and creative projects right now and it's been a sweet and interesting practice to chalk it up in relative silence.  I like it. We will see how much longer it lasts. Because in the strange place that is my mind, I really like to pretend I'm a rock star.
Here is a chalk art sign we just finished for a lovely lady down in California.  I think he looks like "Super Gnat".  If a gnat could be qualified as super.    I am constantly grateful for all the amazing clients we get to work with!  It really makes our life in the studio very, very lovely. When I'm not busy being a rock star (in my mind), I spend a lot of my time simply feeling grateful.
Here's hoping the soundtrack to your life is rocking your world,
Melanie and the CIUS gang
answer: Stevie Nicks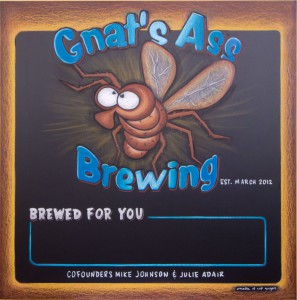 Share on Facebook