Friends, I just have to say, the title of this post(Love and BBQ) just makes me all happy inside.
We wrapped up the big project for New Westminster last week and had such a great time.  Here are all the boards on display.  There were so many we could not take the photo in the shop so we leaned them up against the garden fencing.  That's big Dave, our shop meister/shipper/packer/amazing-all-around -guy showing the boards some love.  Note the amazing raspberry bushes on the other side.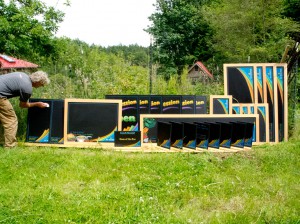 I also present for your viewing pleasure,  Lombardi's BBQ  in Petaluma, CA.  Super nice folks. Repeat clients.  Fun signs!  The border was fun to make and it turned out looking a little bit like stained glass or glass tiles.  I liked the effect very much.  I also got hungry as happens when I draw food images…


We were privileged to create two wedding boards for a super sweet gal and lovely neice, a Miss Katrina Teichroeb and her betrothed, Erik.  We can't go back to Ontario for the wedding this summer, but we are sending our chalky love nevertheless.  I love this old style typography, don't you?
And the fun just keep coming folks.  I will keep you posted on newest and latest projects and events.  In the meantime though, I wish I had some Salt Lick BBQ from home.  I am sure Lombardi's is absolutely amazing, but I have never been to Petaluma.  I have however, been to the Texas Hill Country.
Thanks so much for your continuing support,
Melanie and the CIUS gang

Share on Facebook