Happy September 1st!  Back to school, back to regular work hours and shorter, cooler days.  This is the perfect time to think about made to order chalkboard signs.
Fall is the best time for most venues to consider made to order chalkboard signs.  The busy summer season is behind you. You have a brief window before the insane holiday season begins. Time to strategize about new signage or decor for your establishment, venue, home or event. Need to renovate? Change your menu over? Simply tired of the same a-frame chalkboard you have been setting out to attract new customers?  Since your customers appreciate a made to order chalkboard sign why not give them what they want?  We custom design our CIUS chalkboards to include details specific to your venue or event.  Customers notice these special touches. This endears their favourite watering hole or family night restaurant to them even more.
Therefore, here is a chalkboard sign for the newly renovated Black Bear Cafe. The cafe is located in Belmont Books in lovely Belmont, MA.  The bookstore owners want certain key elements included in their chalkboard sign. They want to convey the history and emotional connection to their historical town and bookstore.  Consequently, we are always happy to oblige! And the sweet little bear was the main focal point. Included is an homage to the train stop so we used fun steampunk imagery.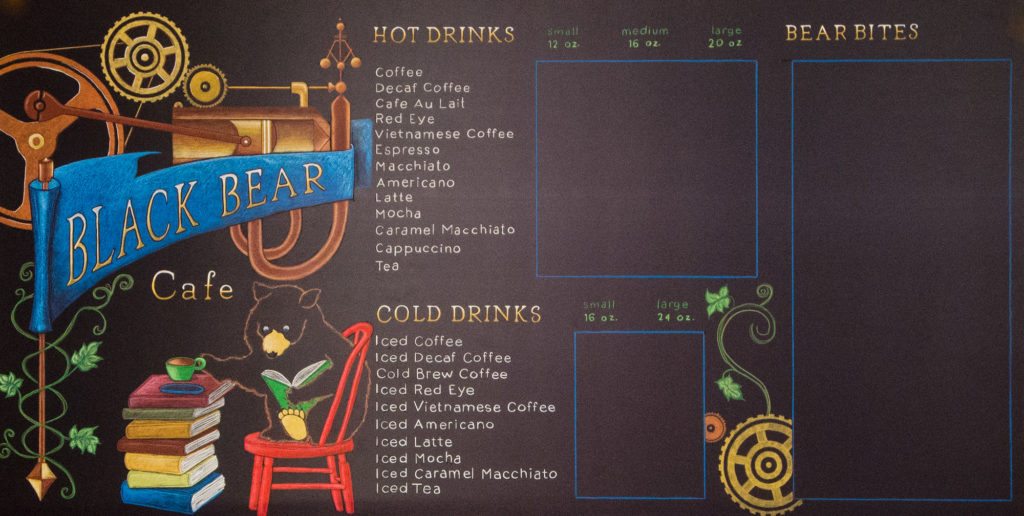 Made to order chalkboard signs are a great addition to your establishment or event because they are 100% custom designed and made.  Details that set you apart, that signal to your patrons that you are unique, are hand drawn by our phenomenal artists here at Chalk It Up Signs.  Every chalkboard sign we make is unique.  We have designed and hand crafted hundreds and hundreds of signs over the years and we love that each one is unique to a singular venue or event.  It makes our jobs fun and it keeps our portfolio fresh.
The other special thing about our chalkboard signs is that we produce digital copies of of our hand drawn art so that if you own a franchise of any sort, we give you that one of a kind sign look in multiples.
Contact Dave today and get more information on your very own Made To Order Chalkboard Signs.
Our batteries are charged up after a great summer holiday so let us use that creative energy on your chalkboard order! Remember, with any deposits made until September 30th, Chalk It Up Signs will donate 10% of the total sign order to the Red Cross Relief for Hurricane Harvey.
As always,
Mel and Dave and the CIUS team

Share on Facebook