The Chalk It Up Signs Mission Statement is to help you attract and build your target audience using our one of a kind, eye-catching chalkboard signs and menus. 
Our chalkboards are ethically created using fair, living wages for our local professional designers, illustrators and framers and we use locally sourced materials when possible for a holistic approach to creating every Chalk It Up Signs chalkboard.  Our business is family owned and operated and located on a small island off the west coast of Vancouver.  We are deeply affected by our natural, fragile, nautical surroundings and never take for granted the special place we live, work, raise our family and play.  We put our gratitude into our work and enjoy producing chalkboard art for businesses and individuals who can carry that pride and gratitude forward in their homes and establishments.
Signage is the most important and affordable business expense but it is often put at the bottom of the list.  When referring to the cost effectiveness of signage in the article How On-Premise Signs Help Small Businesses Tap Into a Hidden Profit Center (A handbook developed by The NewYork State Small Business Development Center Albany, NewYork), here is what the author discovered:
The advertising industry traditionally relies on four measures to assess the effectiveness of the money spent on an advertisement. These methods are: • Reach • Readership • Frequency • Cost per thousand exposures.
Readership: Determining readership is a way of learning whether or not your sign is successfully branding its intended message in the mind of consumers. Can someone who sees your sign recall its message hours or days after having seen it? When viewed, is there recognition of your product or service in the mind of that person? As a means of testing recall and recognition, larger businesses can afford the help offered by ratings service companies to measure the results of an advertising campaign. For example, Nielsen Media Research is relied upon for such assistance by those who advertise heavily on television or radio. Small business owners who operate a store in a large franchise or chain operation have access to such readership tabulations. Small businesses that operate independently, however, do not. The services of a local market researcher or a trade association for your industry can help independents measure readership.
Since 1997, a California sign company has helped 488 independent small businesses measure readership. Each of the businesses surveyed 15 to 30 first-time customers to determine what prompted their visit. In all, the businesses surveyed 7,203 first-time customers, each within 30 to 45 days after the installation of a new sign. One of the survey questions was, "How did you learn about us?"Here's how they responded:
Your sign: 46% (3311)
Word of mouth:  38% (2708)
Newspaper advertisement:  7% (511)
Yellow Pages:  6% (450)
Radio commercial: 2% (133)
Television commercial:   1% (90)
Signtronix Survey, 2003.
The results clearly demonstrate two things: (1) the signs were effectively speaking to (or being read by) potential customers; and (2) signs are the most effective form of advertising for the small independent merchant.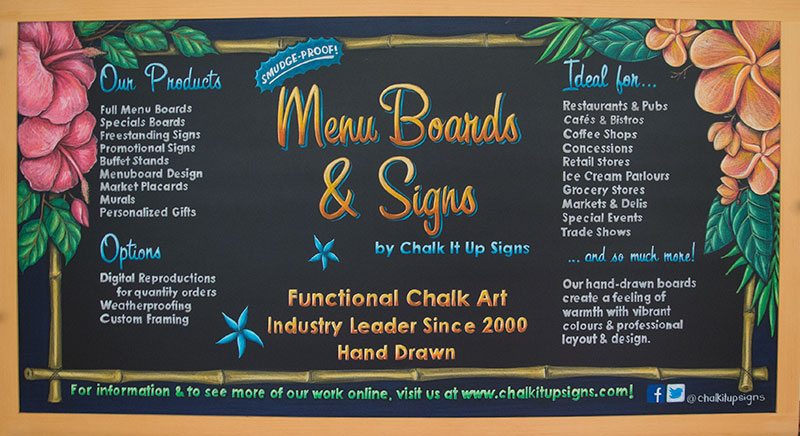 Chalk It Up Signs Mission Statement,Chalk It Up Signs, chalkboard menu sign, chalkboard sign, menu sign, sign, custom chalkboard, hand drawn, hand made, one of a kind
To order or ask questions go to our contact page now.

Share on Facebook