Howdy folks! Happy belated Canadian Thanksgiving to our Canadian friends out there. Welcome, everyone, to this week's instalment of "What's new out of the Chalk It Up Signs' studio?".  We enjoyed working on this large Nanaimo Retirement Home Chalkboard Mural. The elements included in the chalkboard reflect the theme and atmosphere of a casual cafe area in the retirement complex.  Chalkboard Murals are a great way to define a space and create atmosphere in your establishment.  This is not a full menu board, nor does it broadcast the establishment's name.  This Nanaimo Retirement Home Chalkboard Mural exists to set a tone and define the space.
Our unique chalk style hand lettering sets this Nanaimo Retirement Home Chalkboard Mural apart from other chalkboards.  The hand drawn chalk border and our  custom framing highlight the retro coffee saying and retro illustration nicely. We were asked to include a coffee saying, a random, retro clip art image, coffee and food illustrations and chalk hand lettering in their Nanaimo Retirement Home Chalkboard Mural. As a result, our talented illustrators here at Chalk It Up Signs were able to take their ideas and translate them into fully formed, unique, custom chalk art for any establishment. Most of all, we were able to set the tone for their cafe area.
Chalkboards are not just for menus anymore!   Chalk It Up Signs can help you define the atmosphere for your establishment, event or home. However, your theme might be different from this Nanaimo Retirement Home Chalkboard Mural.  That's okay!  Just give us the pertinent content information and we will create a unique custom chalkboard mural for you!
Have a look at our chalkboard mural  page for images and more information on our services.  Then  contact CIUS today for more information and a preliminary estimate.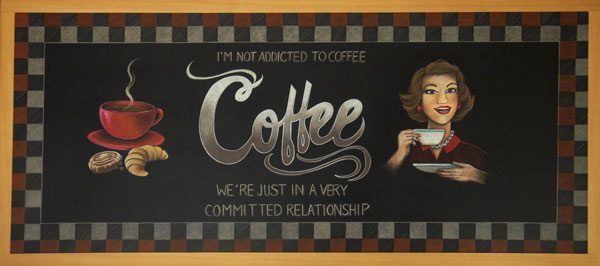 Share on Facebook