New West and Some Nice Sharing
Howdy folks,
Hope all is well in the world with you today.  A gentle rain fell today on our little slice of paradise.  Fruit is setting in the apple, plum and pear trees and the straw, blue and black berries are well on their way too.  It's quite amazing here and my gratitude for this sweet life is endless.
You haven't heard from us in a while because we've been hunkered down in the studio completing a large project for the city of New Westminster.  It's been a great job for great folks (Thanks Jim!).  They are sprucing up some of their food service areas in Queen's Park and we had the honour of crafting new signs for them.  Here's a small sample of what we did for them. All in all, over two dozen signs!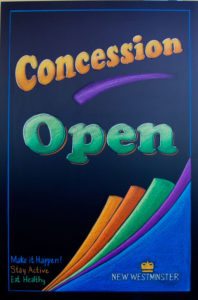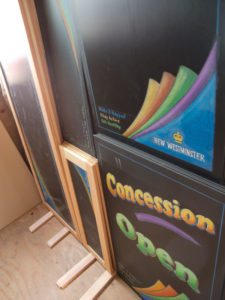 We also had some lovely sharing by one of our recent clients, Jan's on the Beach who posted our sign on their google groups page.    We love to see our signs at work so if you see one or own one, send us a photo we can share!
We have more signs on the go here in our Chalk It Up Signs studio and more photos to share soonly.
Not only am I grateful for the abundance of food growing around our studio, I am also so grateful to each of you for the abundance of kindness and generosity and interest in our chalk art sign business!  We feel the love!
Until next time,
Melanie and the gang

Share on Facebook