Chalkboard signs are great to attract attention to your business or provide your customers with information.  Our Chalk It Up Signs chalkboard sign is also be used as a prop in photos. This New York realtor chalkboard sign for customer photos was the idea of Faisal Jabbour.  Faisal is a mortgage specialist and owns Faze One Funding in Yonkers, NY.
No one wants to have their home on the market for an extended period of time. A photo that shows how quickly the house sold provides a great memory of that sale.  This is also  a powerful sales device for the realtor. Faisal knows that new clients will be more likely to use his services when they see other customers celebrate how quickly their home sold.  Here is an image that shows how this works. (For privacy the customers faces are covered in happy faces.)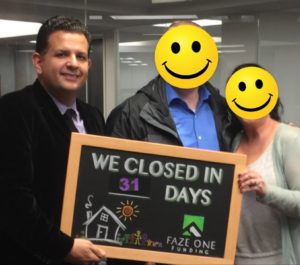 A Picture is Worth a thousand words!
This New York Realtor Chalkboard Sign for Customer Photos idea can also be used at weddings  and trade shows. Take a picture with each member of the wedding party in front of a fantastic, customized wedding chalkboard back drop. Take a photo of clients in front of your logo chalkboard at your trade show booth. This is useful for your website or in brochures. These are both great ideas that create a powerful memory and show success!
 Contact us today for more information on how we can help you create a powerful memory tool of your own with Chalk It Up Signs.
Take care and have a great festive season.
Sincerely,
The gang at Chalk It Up Signs

Share on Facebook