Ordering and shipping at Chalk It Up Signs is simple and easy.  Below you will find information on chalkboard sign payment and shipping for ordering and shipping your chalkboard sign:
PAYMENT We accept Visa, MC, Amex, check, Paypal, money orders and wire/bank transfers. A 50% deposit is required prior to starting a project and the balance is due prior to shipping. Please visit our Process page for information on how to order and contact us today!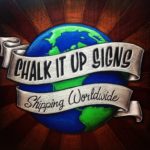 SHIPPING   Shipping takes 3-10 business days depending on the size of your chalkboard and destination. A representative should be available to receive your chalkboard.  We use the best shipping rates both domestically and beyond. You are welcome to use any shipper that you chose especially if you want to take advantage of your frequent shipper discounts. 

US & INTERNATIONAL CLIENTS 
Chalkboards being shipped outside the local area must be paid in full prior to delivery. Click here to see where some of our signs have been shipped. (map of shipping destinations)  

Share on Facebook