Howdy folks!  This is no April Fool's joke…Chalk It Up Signs is the luckiest chalkboard sign making company ever with the best customers anyone could ever ask for!  Take for example, this amazing, HUGE pizza menu chalkboard mural we made for Brian and his Delco, Pennsylvania pizza restaurant Italian Style Pizza.  Brian was such a great customer to work with.  He was always positive and excited and had a great, clear vision for what he wanted for his wall for his establishment.  Brian experienced an incredible health challenge during the creation of his pizza menu chalkboard mural.  Throughout it all, he was kind and thoughtful and positive. Even though we did not know him or his family personally, we were rooting for him! Imagine our true delight when we received this photo of a healthy, smiling Brian with his pizza menu mural up on his wall.
Our work is truly more than a pizza menu chalkboard mural or a coffee shop specials board.  We do love our work – the drawing, the colouring, the designing, the woodworking. But we really love helping other people succeed and feel good about the business they are working so hard on.  It is a very satisfying and privileged place to work from. Dave and I could not be more grateful for our business and the opportunities that unfold thru it.  We are only human as are our customers.  Everyone has a bad day every now and again or comes up against a challenging obstacle.  However, for the most part, we feel like each day is a gift and the folks we get to work for are real gems.
Give us a call today for an estimate or more information on our chalkboard signs.  We can do a pizza menu chalkboard mural or a chalkboard for any event, location or occasion.
Have a great day,
Mel and Dave and the CIUS gang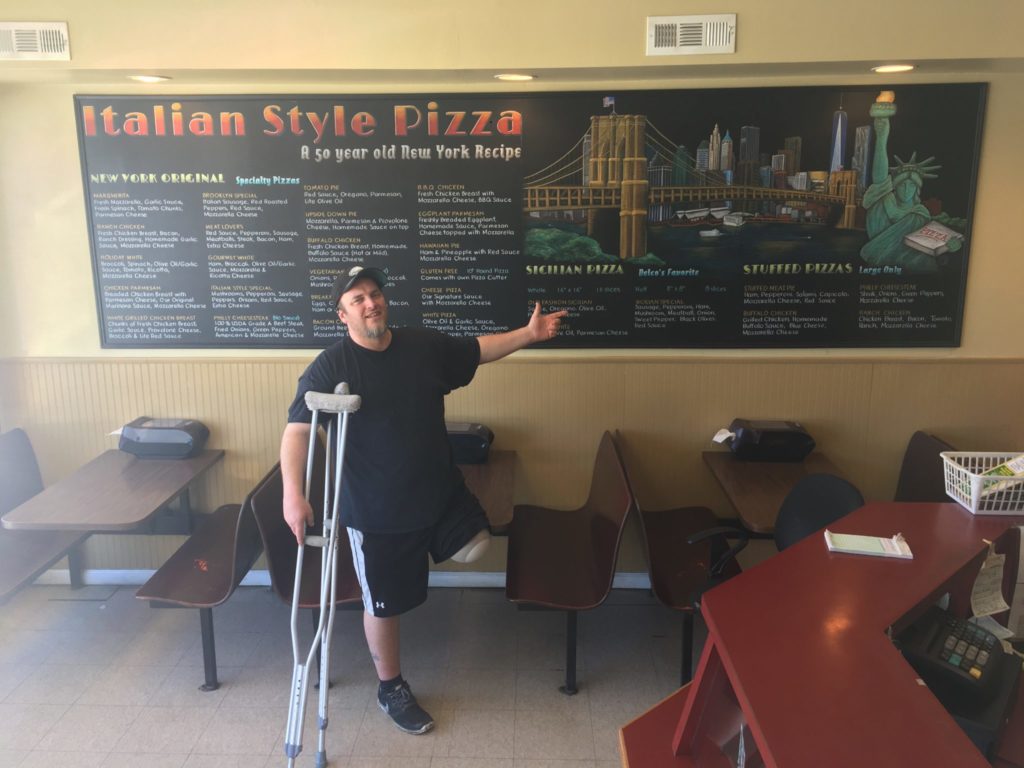 Share on Facebook