We had a great experience working with the owner of Bella Pizza, in Portland Oregon to create these fun chalkboard signs. These Portland Oregon Pizza Menu Chalkboard Signs are our first foray in a while into the Portland area. We hope their customers will enjoy our hand drawn and hand lettered chalkboard signs. Portland is pretty hip, right? We totally enjoyed creating these Manhattan themed pizza boards. The sign below features Bella Pizza's logo and  a New York cityscape with the iconic Brooklyn bridge.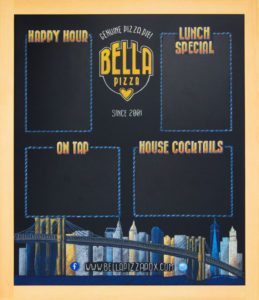 Chalk It Up Signs Chalkboards create a unique, hand drawn way to make your business iconic and memorable!
On this Portland Oregon Pizza Menu Chalkboard Signs Bella Pizza asked us to include a redrawning of the famous Portland "Made in Oregon- Old Town" sign. We used a "Made on Alberta" theme like the "Made in Oregon" sign to show that their pizza is local!
Both signs were framed with west-coast fir using a strong mortise and tenon joint. The finish is one coat of hand rubbed polyurethane. Polyurethane protects the frame while allowing it to age to a beautiful reddish glow.
Contact us today and we'll be glad to help fill all your chalkboard sign needs.
Have a great Thanksgiving,
The Chalkitup Gang

Share on Facebook