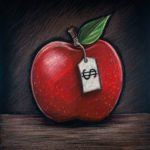 In order to provide you with a pricing estimate we need to know …
1. The size or dimension(s) you need
2. How many boards you require
3. The content
4. Framed?  Framing is the best way to show off your chalkboard sign and it adds weight and quality to the sign. We recommend all our signs be framed.
Your fee includes professional layout and design time for your custom chalkboard or blackboard sign. We custom make all our chalkboard signs to any size you need! From small signs 12″ x 12″ to 20 foot long menus.
 Sign cost and pricing varies by size, content and framing choice.  
Contact Chalk It Ups Signs for for your pricing estimate.
Here is a list of what we do:
Blank Chalkboard – any size up to 48″ x 96″ framed
 Chalkboard with hand drawn logo  – Up to 25 % coverage with image and text
Hand drawn specials chalkboard – 25% – 50% coverage with image and text
Hand drawn menu chalkboard – 50% – 75 % coverage with image and text
Hand drawn full art chalkboard  – 75% – 100% coverage with image and text
Chalkboard framing  – $12/foot
Free standing A-Frame (36″ x 24″ – double sided)
Free standing A-Frame (36″ x 24″ – single  sided) 
Contact Chalk It Signs for your pricing estimate  (every chalkboard  we create is unique and custom)

Share on Facebook