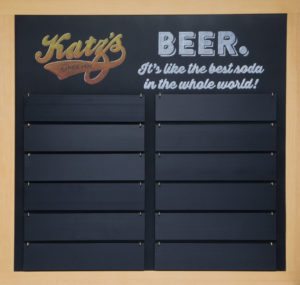 Chalk It Up Signs was asked to create a framed, removable slats chalkboard sign. It was for Katz's Deli in Shenandoah, TX. It features their logo and 12 hanging slats that they can put beer choices on.
Katz's deli and this chalkboard both have a throw-back feel. Simpler times and and a simple way to show off your beer varieties. Framing is 2.25″ wide west coast fir. A strong, knot free, wood that ages well. Brass hooks are used to hang each small chalkboard sign.
This removable slats chalkboard sign is a great way to advertise your beers!
What made this sign extra special was the two owners of Chalk It Up Signs went to Katz's on their first date. That Katz's was in Austin Texas.
Contact Chalk It Up Signs today for more info on having us custom craft a chalkboard for your custom brewed beers. We can ship to you anywhere in Canada and the USA.
Until then, we raise a glass in your honour.
Dave, Mel and the CIUS signs brew crew

Share on Facebook