Hi everyone!
Ahh, springtime…time to get ready for wedding season!  We here at Chalk It Up Signs simply love Wedding Chalk Art. We can help you personalize your very special wedding day with a custom crafted wedding chalk art sign.  We just completed this wedding chalk art sign for a couple and they used John Legend's super romantic song, All Of Me.  The design replicated their wedding invitation.  You can also include the wedding date, your names, your favourite saying, etc.
We also create wedding photo booth backgrounds, wedding menu and wedding seating charts and so much more. We can  seal the art on your wedding sign so that it lasts as long as your wedded bliss. (That's a really long time in case you were wondering.)  Dave in the shop does a wonderful job with framing which accentuates the beautiful artwork on each wedding chalkboard and makes a Chalk It Up Signs wedding chalkboard a treasured piece of your wedding memorabilia.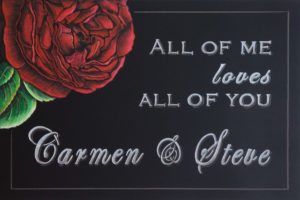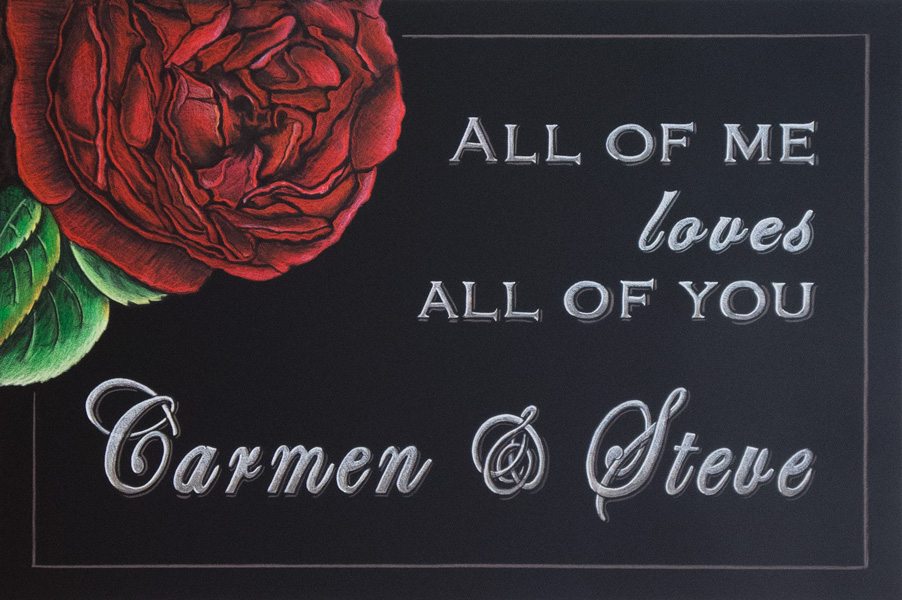 We have only one bit of advice for couple's planning a wedding chalk art sign for their special day…plan ahead!  Hand drawn art takes time.  The busy summer season for weddings is also the busy summer season for restaurants, so we here in the studio are working double time this time of the year.
We love to make these beautiful, personalized wedding chalkboards  so contact us today for more information and to own your very own Chalk It Up Signs Wedding Chalk Art sign.
Until next time, with all our love,
Mel and the Chalk It Up Signs wedding crashers crew

Share on Facebook